B3294 Plastic Weld High Strength 25ml
Materials

Running Shoes cushions your stride with soft foam to keep you running in comfort. Lightweight knit material wraps your foot in breathable support, while a minimalist design fits in just about anywhere your day takes you.
Care Instructions

Use a soft damp cloth and a drop of mild soap to remove any haze. Air dry.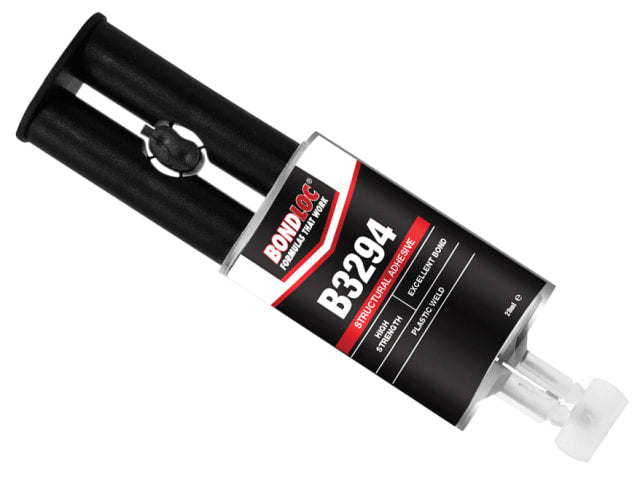 Bondloc B3294 is a toughened structural adhesive formulated for bonding dissimilar substrates as well as unprepared metals, ceramics, wood, concrete and standard thermoset plastics. The final adhesive bond is designed to be load-bearing and resistant to weathering, humidity and wide temperature variations.
Applications: Outdoor weathering or solvent exposure thermoformed plastic assemblies, PVC, fibreglass, vinyls, ABS, steel aluminium, stainless steel, acrylics, phenolic, polycarbonate, styrenics, Noryl, PET, wood, concrete and ceramic magnet and speaker assembly.
Specifications:
Viscosity: 55,000cps
Colour: Off white
Weight: 8.44 lbs/gal
Mixed Density: 8.28lbs/gal
Flash Point: 51°F
Mixed Viscosity: No sagging gel
Open Time: 3 minutes @ 72°F, 22°C
Assembly Time: 6 minutes @ 72°F, 22°C
Functional Cure: 3/4-1 hour
Full Cure: 4 hours
Solvents: None
Coverage: (based on 25ml) 152 sq.in @ 0.010in