B574 Instant Gasket Maker 50ml
Materials

Running Shoes cushions your stride with soft foam to keep you running in comfort. Lightweight knit material wraps your foot in breathable support, while a minimalist design fits in just about anywhere your day takes you.
Care Instructions

Use a soft damp cloth and a drop of mild soap to remove any haze. Air dry.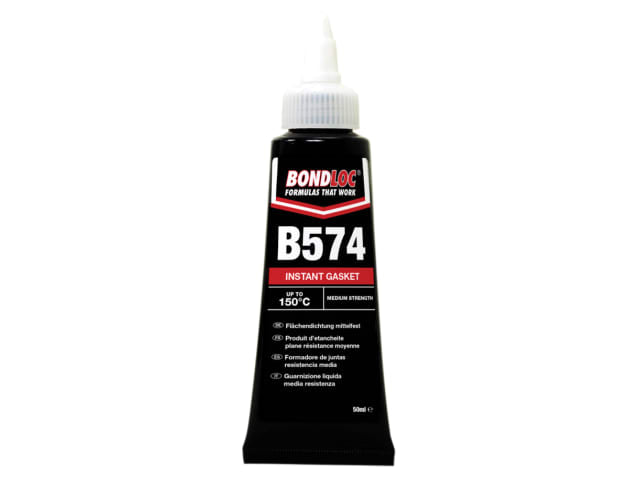 Bondloc B574 is an Instant Gasket material that forms in place, making almost any size and shape, replacing paper, cork etc. It eliminates relaxation and on loads loss. The assembled parts are usually suitable for immediate Low Pressure ( 6 bar) service and once cured can resist 350 Bar Pressure depending on gap size.
Suitable for all formed in place applications such as gear box sealing, pump flanges, transmission assemblies, cover plates on tanks, cam shaft sealing, bearing gaps, outer housings, crank case and sump assemblies and flange pipe fittings.
Specifications:
Resin: Dimethacrylate.
Colour: Orange paste.
Cure speed with Activator: 10 mins.
Cure speed without Activator: 15-30 mins.
Viscosity - Brookfield Sp3 @ 20rpm: 50,000cps.
Gap Fill/Max Threadform: 0.5mm/M36.
Flash Point: >100°C.
Shelf Life: 12 months @ 20°C.
Specific Gravity: 1.10.
Max operating temperature: -55°C to 150°C.
Cured Performance:
Full Cure Time: 24 hours @ 20°C.
Breakloose Strength: 8N.m.
Static Shear Strength: 10N.m.
Size: 50ml.