Locking Pliers with Wire Cutter Set, 5 Piece
Materials

Running Shoes cushions your stride with soft foam to keep you running in comfort. Lightweight knit material wraps your foot in breathable support, while a minimalist design fits in just about anywhere your day takes you.
Care Instructions

Use a soft damp cloth and a drop of mild soap to remove any haze. Air dry.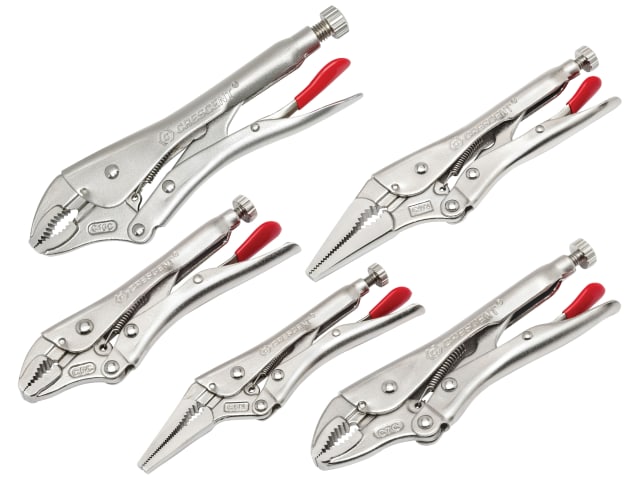 These Crescent Locking Pliers have a nickel plated finish that resists rust and corrosion for increased durability. The compound gripping action produces a powerful, non-slip locking grip. The red plastic dipped release lever provides improved comfort and Crescent brand identity. An aggressive grip pattern has been added to the tightening knurls. The handle also features a hex key receiving hole for increased torque and convenience.
Contains:
3 x Curved Jaw Locking Pliers, the versatile curved jaw features an angled tooth design, which provides increased grip, and an integral wire cutter. Sizes:
1 x C5CVN: Length 127mm (5in), Capacity 32mm (1.1/4in)
1 x C7CVN: Length 178mm (7in), Capacity 40mm (1.9/16in)
1 x C10CVN: Length 254mm (10in), Capacity 48mm (1.7/8in)
2 x Long Nose Locking Pliers, the long nose design provides access into tight, difficult to reach areas. With an angled tooth design for increased grip and an integral wire cutter. Sizes:
1 x C6NVN: Length 150mm (6in), Capacity 52mm (2in)
1 x C9NVN: Length 229mm (9in), Capacity 32mm (1.1/4in)