S560 Socket Set of 56 Metric 1/4 & 1/2in Drive
Materials

Running Shoes cushions your stride with soft foam to keep you running in comfort. Lightweight knit material wraps your foot in breathable support, while a minimalist design fits in just about anywhere your day takes you.
Care Instructions

Use a soft damp cloth and a drop of mild soap to remove any haze. Air dry.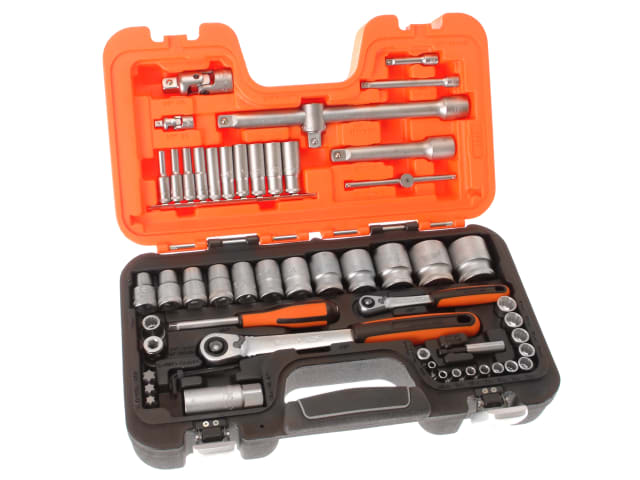 Bahco have produced a good range of socket set, and the Bahco S560 is a top quality 1/4-Inch and 1/2-Inch square drive set, with dynamic drive profile.
This set has been finished is a stylish matt chrome-plated finish that is corrosion and rust resistance giving the set a good professional look, with years of protection.
Also the sockets and wrenches are all chrome vanadium material, with all sockets having 12 point design that gives good grip and added torque.
The Bahco S560 has a good range of the most commonly used sockets, with a wide range of additional tools including wrenches, extensions bars, TORX bits, hex keys, bit holder, ratchets and screwdriver with a 1/4-Inch hex in the top handle.
All these are supplied in a rigid plastic storage case that is made from oil and temperature resistant polypropylene with markings for all tools for quick and easy location and correct replacement.
This set contains 56 Pieces comprising:
12 x 1/4in Bi-hex sockets: 4, 4.5, 5, 5.5, 6, 7, 8, 9, 10, 11, 12 and 13mm.
10 x 1/4in Bi-hex sockets: 4, 5, 6, 7, 8, 9, 10, 11, 12 and 13mm.
13 x 1/2in Bi-hex sockets: 10, 11, 12, 13, 14, 15, 17, 19, 22, 24, 27, 30 and 32mm.
3 x 5/16in TORX bits: T45, T50 and T55.
2 x 1/4in Extensions: 50mm (2 Inch) and 100mm (4 Inch).
1 x 1/4in Sliding T-handle: 100mm (4 Inch).
1 x 1/4in Universal joint.
1 x 1/4in Spinner handle.
2 x 1/2in Extension bars: 125mm and 250mm.
1 x 1/2in Adaptor for T-handle.
1 x 1/2in Universal joint.
1 x 1/2in Bit holder 5/16in.
1 x Spark plug socket: 21mm (13/16 in).
3 x Hex keys: 1.5, 2 and 2.5mm.
1 x 1/4in Reversible ratchet - 72 teeth.
1 x 1/2in Reversible ratchet - 72 teeth.
1 x 1/4in drive 1/4 hex socket.
1 x 1/4in Magnetic bit holder.